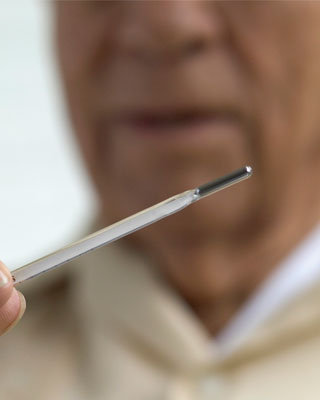 Many times, fever may be our body's only sign of an Infection. Infections during chemotherapy can be life threatening and may delay future chemotherapy treatments. Because your white blood cell count is low, your body may not be able to fight the infection on its own.
This is why it's very important that you call your doctor immediately, even if it is in the middle of the night, if you have a temperature of 100.4ºF (38ºC) or higher.
You should also be sure to do the following:
Keep a working thermometer in a convenient location and know how to use it.
Take your temperature any time you feel warm, flushed, chilled, or not well.
Be aware of when you are likely to be at highest risk for infection due to a low white blood cell count. Your doctor and/or nurse will let you know when your white blood cell count is likely to be at its lowest. This period is sometimes referred to as the nadir, which means "lowest point". During your nadir, the period of time beginning 7-12 days after you finish each chemotherapy dose-and possibly lasing up to 5-7 days-is when you may be at the greatest risk for infection.
Keep your doctor's phone numbers with you at all times. Make sure you know what number to call during their office hours and what number to call after hours. If you have a fever during a time when the office is closed. DO NOT wait until the office reopens before you call.
If you have to go to the emergency room, it's important that you tell the person checking you in that you are a cancer patient undergoing chemotherapy. This is because if you have an infection you shouldn't sit in the waiting room for a long time. Infections can get very serious the longer they go untreated.